Welcome to Edinburgh Triathletes
Edinburgh Triathletes is one of the largest, friendliest and most successful triathlon clubs in Scotland and organises several premier events in the triathlon calendar, including the Gullane Beach triathlon (draft results 2015) and the New Year's Day triathlon. 
If you would like to find out more about Triathlons or Edinburgh Triathletes take a look at our 'how to get started page', or contact us by email.
2015
Forthcoming...
24 Oct: Edinburgh Triathletes 25th

Anniversary

Dinner & Ceilidh, Assembly Rooms on George Street.

"The club is celebrating it's 25th year this year, and to mark this amazing occasion we are having a dinner and ceilidh
. More details (on emails), so save the date and get your dancing shoes ready! It will be a great way to end the season and hopefully get lots of present and past ET members together (with guests) to celebrate the success of the club" (Keira M).
11 Oct: ET club championship race: Stirling Aquathlon (Other races...)
9-11 Oct: Training weekend at Bridge of Earn
3 Oct: ET club championship race: Foxlake Cross Sprint (Night event)
Recent...
22 Sept: Silverknowes TT (Results)
20 Sept:
World AG Champs Chicago: ETs were Kirsten C, Keira M, Phil P-B,  and Joe T. Brilliant!

ET club championship race: St Mary's Loch Standard. Gongs for Liz R, Matt and Eilidh Y. Also debuts from Aeneas and James R. Well done folks, and with 2 races to go in the ET Club Champs, the leaders are... 
5 Sept: Gullane Beach Triathlon (draft results). More...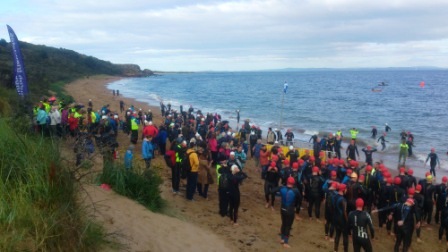 1 Sept: Carbury Hill TT
30 Aug: ET club championship race: Haddington Sprint
20 Aug: Silverknowes TT (Results)

19 Aug: Kirsten C and Karl Z's transition/duathlon training (Threipmuir)
"Huge thanks to Karl and Kirsten for coaching an exciting open water session at Threipmuir ... in  rougher conditions than many of us have experienced in the sea. Also to Al for providing kayak support..." (Anna H.)
16 Aug: A gold for Liz R in the ET club championship race at Aberfeldy (Also Scottish Middle Champs) Results...

15 Aug: Richard F's bike skills sessions begin (Dalkeith)
12 Aug: Kirsten C and Karl Z's transition/duathlon training (Crammond)
6 Aug: Carbury Hill TT

26 July:
Bamburgh Middle distance - Gold, silver and bronze for the ladies. Well done Liz R, Lynn H, and Sharon G, (Results).

Liverpool (British Champs) - bronzes for Keira M and Kirsten C, (results).

21 July: Silverknowes TT  (Results)

19 July: IM UK produced a bronze for Scott B, and finishes for Anna H, and Sandy L (with 11:09!). Also an impressive finish from Iain S in IM Switzerland, along with Nicola D, Neil C, and Colin X.
13 July: Last of the extra (late) Monday swim sessions
12 July: Event cancelled Culzean Sprint (Cross)
10 July: Congratulations to Doug MacDonald, up 4 places from last year in the European AG (Geneva).

7 July: Dalkeith Hilly TT bike (results)
1 July: Inverleith TT run (results, and a course record from Liz R)

29 June: Postal swim results and a bunch of medals for ETs.

24 June: Additional articles added to the 'Memorium' page, on Andrew and Dougie.
21 June:
Tribull (Spring 2015 now available)
ET team of Nicol Fraser, Elizabeth Richardson & Euan Batten come 9th in Seven Hills Of Edinburgh, with Liz taking Bronze in overall female.
ET club championship race: Knockburn Sprint (also Scottish Champs)
"Well done to all the ET's who competed at Knockburn... Mike Allan, Joe Tomaney Doug McDonald and myself. Weather was great for a change no frozen feet or hands and Mike just missed out on podium coming fourth in his age category" (Mike Brown).
16 June: Silverknowes TT
14 June: ET at Bruce sprint (Lochore Meadows)

10 June: ET are now registered with Ironman.

9 June: Carbury Hill TT (TT page,)
7 June:
4th ET club championship race: Peebles Sprint. Joe T is overall winner. (Results)
A bronze AG at Stirling for Zoe Ross on her sprint debut(results)
Congatulations to Al S on escaping from Alcatraz (results)
31 May: See emails and charity page for details of Anna H's Pentland runs and charity events.

26 May: Silverknowes time-trial (see emails and TT page, start-time 1900hr prompt)
Weekly: Threipmuir (and other) open water sessions have started...  check your emails.

24 May: Liz Richardson wins GOLD at Rimini ETU Challenge Middle Distance Triathlon European Championships  in 05:22:28 (More...)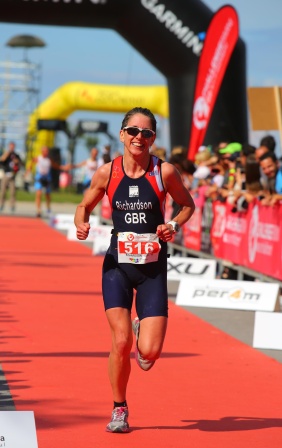 24 May: The third ET club championship race was Strathclyde Park Standard.

23 May: A lovely bronze for the ET mixed team at the Scottish Team Relay Championships.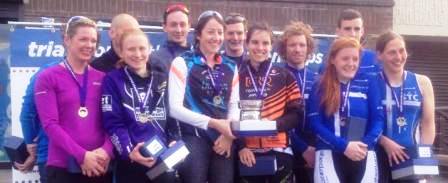 20 May: Leith Victoria Swimming Pool early morning sessions begin, see 'Training' page and emails for more info.
19 May: Silverknowes time-trial (might be monthly!) Results...

18 May: Last spin session at Pedalhouse, but discounted sessions continue on an individual basis, see emails for details.
10 May: The second scoot round the scary Seven Hills (see Laura F's emails).
6 May: Inverleith Park timetrial (results)
25 Apr - 2 May: Warm weather training in Mallorca.
19 Apr: The second ET Club Championship race was the Ayr Duathlon.

12 Apr: Liz R, Scott B and Laura F take first 3 places in the test run of the Portobello (Figgate) Parkrun. Well done to organiser Ciara Webb. More...
6 Apr: A wee group jog round the Seven Hills.
31 Mar: Last session of the first spin block at Pedalhouse. But it continues... check emails for news.

29 Mar: Stirling Duathlon was the first of the ET Club Championship races
21 Mar: Tranent sprint was not an ET Club Championship race this year, but it's local. Well done in particular to  Eilidh Y, Arnott K,  and Phil P-B. (More...)
15 Mar: News from the deep south as Michael Walsh collected an age-group gold at the Longleat half marathon with 1:38:58.

11 Mar: Inverleith Park timetrial results (thank you Karl Z and Lynn H)

7 Mar: Bowling evening at the Corn exchange. "Huge thanks to Keira M and Jennie for last night's bowling extravaganza and well done to Craig M for his excellent performance". (GC)

A super night. See emails for more details.

3 Mar: A brilliant 12 hour blast on the turbo-trainer from Nicola Murphy for the Sick Kids Friends Foundation. More...
25 Feb: Charity 1hr 'Postal' swim with 15 participants swimming 47km. Thank you Liz R for  organising this. See results & blurb...

22 Feb: Charity 'bring and buy' sale in aid of Cancer Research organised by Sharon G & Kirsten C raising over £800 (and counting). (More...). Photo by Juan Ramon Hidalgo.

21 Feb: Tumble-turn masterclass (part 2) Another 11 thank-yous to Gavin C for the follow-up masterclass on tumble turns. We just need to practise now!
8 Feb: ET's Troika of Mike Brown, Craig and Heather Matthews competed (more...)
5 Feb: Tribull 2014 now available

1 Feb: Gullane entries opened.
27 Jan: 10 week spin block started at Pedalhouse
18 Jan:
17 Jan: Tumble-turn masterclass "Thank you Gavin C for an exciting masterclass on tumble turns this morning in Dalkeith. 18 of us tumbled out of bed this frosty morning and into the pool at 07:00. Two were so excited  to learn new swimming skills that they got into their car at 05:30, instead of 06:30!! There will be a follow-up masterclass, date to be announced" (Anna H).
14 Jan: Inverleith Park timetrial (results)
10 Jan: Dalkeith 400m swim TT (results)
4 Jan: A good turnout for a run in the Pentlands (thanks Anna).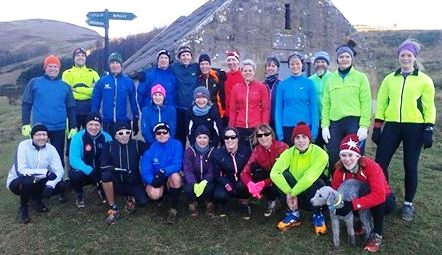 3 Jan:  ET's home-baked Duathlon after the Dalkeith morning swim, (results).
1 Jan: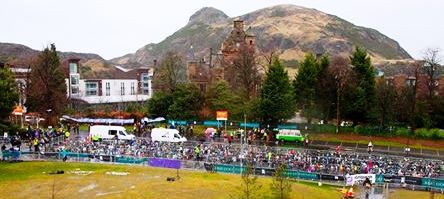 New Year's Day Triathlon, Edinburgh, (including Triathlon and Kids Duathlon results). Big thank you to John Whittaker and the organising team, sponsors, volunteers, supporters, competitors, venue and staff for creating a superb event. (Photo above: Anna Henly)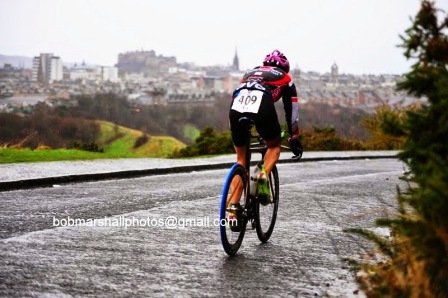 "Massive congratulations to Francesca Osowska (our club secretary) on her OBE in the New Year's Honours list for her work on the Commonwealth Games and sport at the Scottish government" (Gavin C).
Triathlon Scotland confirm 7 championships events for 2015 (see 'Races')
Internal ET Club Championship races (see http://edinburghtri.org/concrete5/index.php/races/)
Previous Results and Highlights...