Welcome to Edinburgh Triathletes
Edinburgh Triathletes is one of the largest, friendliest and most successful triathlon clubs in Scotland and organises several premier events in the triathlon calendar, including the Gullane Beach triathlon and the New Year's Day triathlon. 
2015
Forthcoming...
29 Mar: The next ET club championship race is... (Stirling Duathlon). Other races...
Recent...
3 Mar: A brilliant 12 hour blast on the turbo-trainer from Nicola Murphy for the Sick Kids Friends Foundation. More...
25 Feb: Charity 1hr 'Postal' swim with 15 participants swimming 47km. Thank you Liz R for  organising this. See results & blurb...

22 Feb: Charity 'bring and buy' sale in aid of Cancer Research organised by Sharon G & Kirsten C raising over £800 (and counting). (More...). Photo by Juan Ramon Hidalgo.

21 Feb: Tumble-turn masterclass (part 2) Another 11 thank-yous to Gavin C for the follow-up masterclass on tumble turns. We just need to practise now!
8 Feb: ET's Troika with "Mike Brown, Craig and Heather Matthews competed at the Duathlon on Sunday in Monikie country park, it was a 4k run 21k bike 4k run event beautiful day with 82 competitors:
Mike 32nd in 1:23:26
Craig 51st in 1:28:12
Heather 67th in 1:34:25" (MB)
5 Feb: Tribull 2014 now available

1 Feb: Gullane entries opened.
27 Jan: 10 week spin block started at Pedalhouse
18 Jan:
17 Jan: Tumble-turn masterclass "Thank you Gavin C for an exciting masterclass on tumble turns this morning in Dalkeith. 18 of us tumbled out of bed this frosty morning and into the pool at 07:00. Two were so excited  to learn new swimming skills that they got into their car at 05:30, instead of 06:30!! There will be a follow-up masterclass, date to be announced" (Anna H).
10 Jan: Dalkeith 400m swim TT (results)
4 Jan: A good turnout for a run in the Pentlands (thanks Anna).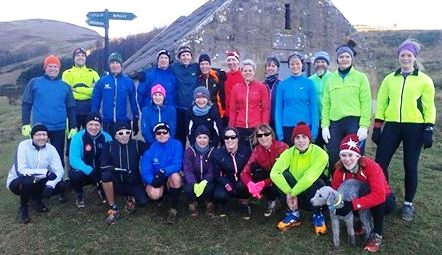 3 Jan:  ET's home-baked Duathlon after the Dalkeith morning swim, (results).
1 Jan: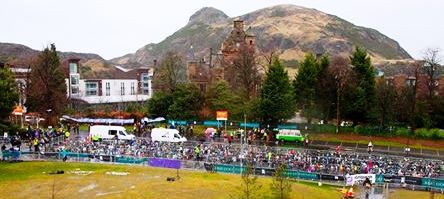 New Year's Day Triathlon, Edinburgh, (including Triathlon and Kids Duathlon results). Big thank you to John Whittaker and the organising team, sponsors, volunteers, supporters, competitors, venue and staff for creating a superb event. (Photo above: Anna Henly)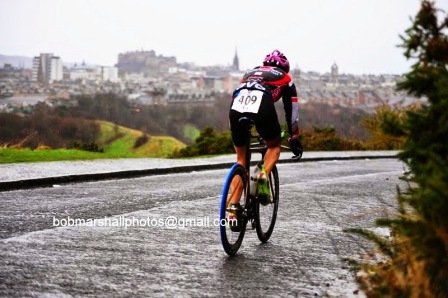 "Massive congratulations to Francesca Osowska (our club secretary) on her OBE in the New Year's Honours list for her work on the Commonwealth Games and sport at the Scottish government" (Gavin C).
Triathlon Scotland confirm 7 championships events for 2015 (see 'Races')
Internal ET Club Championship races (see http://edinburghtri.org/concrete5/index.php/races/)
Previous Results and Highlights...