Welcome to Edinburgh Triathletes
Edinburgh Triathletes is one of the largest, friendliest and most successful triathlon clubs in Scotland and organises several premier events in the triathlon calendar, including the Gullane Beach triathlon and the New Year's Day triathlon. 
2015
Sept: ET's Gullane Triathlon (tbc)

25 Apr - 2 May: Warm weather training in Mallorca. See emails for info.
27 Jan: 10 week spin block starts at Pedalhouse
18 Jan:
17 Jan: Tumble-turn masterclass "Thank you Gavin C for an exciting masterclass on tumble turns this morning in Dalkeith. 18 of us tumbled out of bed this frosty morning and into the pool at 07:00. Two were so excited  to learn new swimming skills that they got into their car at 05:30, instead of 06:30!! There will be a follow-up masterclass, date to be announced" (Anna H).
10 Jan: Dalkeith 400m swim TT (results)
4 Jan: A good turnout for a run in the Pentlands (thanks Anna).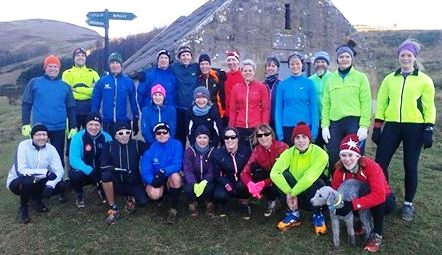 3 Jan:  ET's home-baked Duathlon after the Dalkeith morning swim, (results).
1 Jan: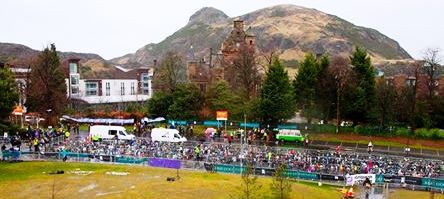 New Year's Day Triathlon, Edinburgh, (including Provisional Triathlon and Kids Duathlon results). Big thank you to John Whittaker and the organising team, sponsors, volunteers, supporters, competitors, venue and staff for creating a superb event. (Photo: Anna Henly)
"Massive congratulations to Francesca Osowska (our club secretary) on her OBE in the New Year's Honours list for her work on the Commonwealth Games and sport at the Scottish government" (Gavin C).
Triathlon Scotland confirm 7 championships events for 2015 (see 'Races')
Internal ET Club Championship races (see http://edinburghtri.org/concrete5/index.php/races/)
2014
13 Dec: The Winter ride-out to Gullane after the Dalkeith swim session was postponed until January owing to tricky weather. Instead, there was a group run around Dalkeith Country Park.

6 Dec: A big day for ET enthusiasts, and thank you to...
David Carry who did us proud with a masterclass in tumble-turns and diving at Dalkeith. Following on from Richard and Gavin's session the previous week, ALL the squad were diving off the boards. Awesome result.
Scott Balfour, coaches, co-ordinators and helpers (what would we do without them?) for the Swim Gala. 
Mike B and Keira for the Christmas bash & fringe events. See emails and Facebook for more...

29 Nov: A big thank you to Richard F and Gavin C for the "Diving for Dummies" class at Dalkeith before the main swim session. 

26 Nov: A good turn-out too, as it turns out, for a turn-about or two (1.5 km & 3km) of Inverleith Park for the time-trial (run). Results...

20 Nov: Edinburgh Evening News article on Arnott Kidd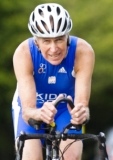 16 Nov:
Triathlon Scotland Legends Rankings...
Gold for Mireille Captieux (Standard distance)
Gold for Eilidh Yates (OW)
Bronze for Eilidh Yates (Cross)
We now have an entry page on Club Sport Edinburgh.
Belated congratulations to Sandy Legget on his 10:32 at the Outlaw in July, and Gold at Selkirk on 4th May for Mireille Captieux.
11 Nov: A well-attended AGM at the Minto (including run, eats and a draft Tribull).
2 Nov: Tweet from Triathlon Scotland...
Previous Results and Highlights...