Welcome to Edinburgh Triathletes
Edinburgh Triathletes is one of the largest, friendliest and most successful triathlon clubs in Scotland and organises several premier events in the triathlon calendar, including the Gullane Beach triathlon and the New Year's Day triathlon. 
2015
Thursday 1st January: New Year's Day Triathlon, Edinburgh
2014
6 Dec: Christmas bash & Awards
11 Nov: 1830hr at the Minto
17-19 Oct: Training weekend
A huge thank you to Mike Brown for organizing a brilliant ET Training Weekend at Bridge of Earn, and to Gavin and Richard for delivering an inspired coaching programme in such a short space of time.
5 Oct: Congratulations to Joe Tomaney on a sub-12 debut in Barcelona.
27 Sept: Well done to Anna Henly for her Mallorca IM in Alcudia.

14 Sept: another podium finish for Eilidh Yates at St.Mary's Loch with Silver overall and Age-group Gold. Meanwhile, Lynn Hanley is trying to keep her age-group bronze a secret.

6 Sept: Gullane Triathlon. ET's Rae Captieux gets Gold overall, and Age-group too of course. Eilidh Yates has Bronze with Age-group Silver. More results. (Photo: Anna Henly, 2014).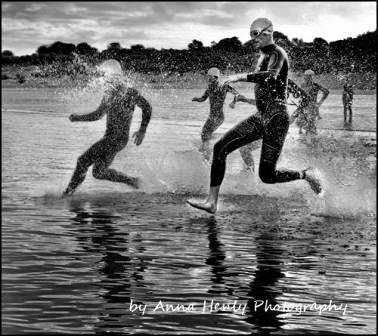 1 Sept: http://www.bbc.co.uk/news/uk-england-cornwall-28983049 for a link to the news of the verdict over Andrew's death.
1 Sept: The Club Champs listing has been updated following Haddington.
31 Aug: Well done to the ETs who performed so well at Haddington and also those members who were so supportive of each other around the finish. Particular plaudits to Mike Allan and Phil Parr Burman coming second and third respectively in their age group and to Fiona Milligan coming second in hers. Also worth a mention is the fact that Jane Rahil knocked well over 2 minutes off her swim time from last year.
30 Aug: Good luck to Graeme Rae at his wedding. Sure we'll see you back in the pool soon.
30 Aug: Thanks to those ETs who gave their time to help at the ERC tri stars. Seemed like Jo Phillips and her team ran a great event, and the first-aiders only used 2 plasters.

24 Aug: Continuing Liz's winning streak our mixed relay team came first at Perth's Relay Wild Triathlon.  The team was Derek Ireland, Liz Richardson, Mike Allan and Laura Forrester.

Liz's famous Trumpets are now on the members page.
We have had a bit of club Ironman success in August:
Simon Nicholls at Ironman Kalmar, Sweden in 12 hrs 12 min
James Dunn at Ironman Copenhagen, Denmark in 10 hrs 57 min
17 Aug: Podium finishes for Liz and Scott at Aberfeldy, (results).
15 Aug: Sarah Profit's "Prof's Olympic Legacy" featured 15 sprint triathlons in 15 days and used Warrender Pool for the swim. More details on www.profsolympiclegacy.com and www.justgiving.com/profsolympiclegacy.
10 Aug: Another age-group gong for Mike Allan (Westhill was the culprit this time)
John Whittaker's Swissman 2014 (Report) and Matt Goode's Kitzbuehel 2014 (Report)
OW Aquathlon results.