Welcome to Edinburgh Triathletes
Edinburgh Triathletes is one of the largest, friendliest and most successful triathlon clubs in Scotland and organises several premier events in the triathlon calendar, including the Gullane Beach triathlon and the New Year's Day triathlon. 
News:
John Whittaker's Swissman 2014 (Report)

Podium finishes for Liz and Scott at Aberfeldy 17th Aug, (results).

Liz's famous Trumpets are now on the members page.

Matt Goode's Kitzbuhel 2014 (Report)
OW Aquathon results.


October
October Training Weekend: deposits to Mike B please.
September
Final Club Target race at Porty Aquathlon: 21st September (tbc)
Gullane Triathlon is on Saturday 6th Sept 2014. (Photo: Pam McLeod, 2013)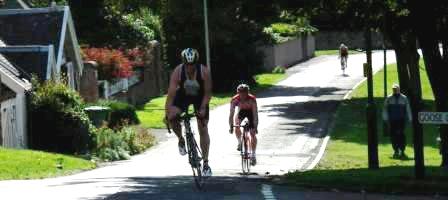 Two ET club target races this month:
Haddington sprint: 31st August
Aberfeldy Middle Distance (Scottish & British champs): 17th August
Sunday 24th Aug: Kilgraston Mixed Relay - looks like at least 2 ET teams so far. Check emails for more info.
Sarah Profit's Fringe show "Prof's Olympic Legacy" finished on 15th Aug, featuring 15 sprint triathlons in 15 days and using Warrender Pool for the swim. More details on www.profsolympiclegacy.com and www.justgiving.com/profsolympiclegacy.
Another age-group gong for Mike Allan on 10th (Westhill was the culprit this time)
July
27th: David Forrester and Louise's big day. Congratulations!
27th: Outlaw IMs for Lynn Hanley and Steve Law
27th: Silver Super-Vet at Inverurie for Mike Allan. Results
Bamburgh on 26th with an adverse current on the swim for Liz Richardson who then went on to win Bronze Age-group.
Scott Balfour's usual Gold Age-group at IMUK on 20th. What a star!
An age-group silver for Mike Brown at Monikie on the 13th, (see results).
Age-group win and 4th overall for Jon Reilly at Ullswater on the 12th, (see results).
June
A sub-12 IM from Nicola Dudley in Austria on the 29th - terrific!
Well done to John Whittaker on his successful Commie PB-with-Baton on Monday 16th. (Photo: Anna Henly), and the Swissman IM on the 21st.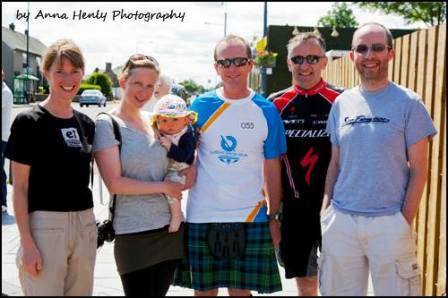 Results from the two other ET club target races this month:
Saturday 14th June Memorial Ride
It is almost a year since the first of the tragic accidents involving Andrew, Dougie and Stephen. Mainly thanks to a lot of work by Jim McGoldrick we now have a memorial bench and several trees in place at Gullane. (Photo: Paul Graham). More...

8th June: Knockburn Sprint (Scottish champs). Congratulations to Keira Murray for winning Senior Females and highest placed ET male Euan Batten and a well done to all other ET's. An excellent well run tough little race, especially the run. Results...
Foxlake Triathlon on 7th June: ET's 2male+2female relay team won, and was 4th overall (see Races/Results). Also a big thanks to John Whittaker and the small team of ETs who helped manage a successful event. Big  cheer to Mandy and Anna who did a twelve hour shift too.
May
Two ET bronzes at Aberfeldy on 25th.
Glasgow 2014 Invitational Triathlon Saturday 24th. ET had a mixed team of four in the invitational event at Strathclyde Park to test the Commonwealth Course on Saturday 24th May. (Photo: Jane Scott)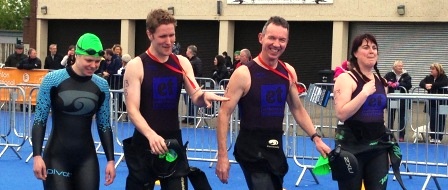 Another great turnout at the Club Target race at Strathclyde Standard (Scottish champs) on 18th May. See 'Races/Results' for details. (Photo: Mike Brown)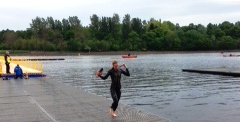 Congratulations to Francesca Osowska and Ian Hill on their IM Lanzarotes on the 17th.

ET team win at Cape Wrath on 17th. Congratulations to Gavin and Laura.
A 10:39 Transvulcania by Karl Zeiner on the 10th.

Apri

l
24-hour sponsored team swim on 11-12th April, organised by Keira. The wet and dry teams produced an awesome 532k of swimming, and over £7000 was raised for charities. Donations can still be made to the justgiving page on http://www.justgiving.com/EdinburghTriathletes. (Photo: Anna Henly).
Steve Law: "The fundraiser was initially put forward to help replace some special needs bikes that had been stolen earlier in the year. Last week I had the pleasure of handing over a cheque for £740 to Saltersgate School at the Dalkeith Campus".
Jean Slater (Headteacher): "The amount you raised was tremendous and ... is a fantastic boost to our aim of getting all our children to be able to access cycling as independently as possible".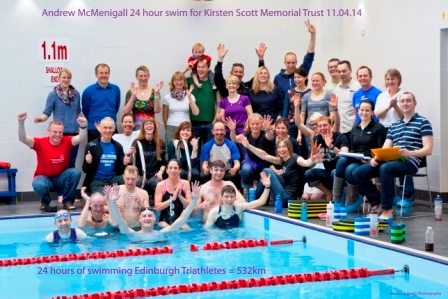 Training weekend Friday 4th - Sunday 6th April. Thank you Kirsten Cameron and team for the organisation and well done to all who went. See ET club emails for more details. (Photos: Sharon Grimshaw).

March
Excellent turnout at the Tranent Sprint with the new ET Trisuit on show. Big shout out to Laura Forrester and Lynn Hanley for age-group wins. See 'Races/Results' for more details and for other target races.
Saturday 15th closed road cycle session 1000-1300 at the Royal Highland Centre. Thank you to Richard for organising this and the 'bike skills' sessions.
February
The 1-hour 'Postal' swim clocked up a total of 58 km (by 18 swimmers) on Wednesday 26th February swim session. Terrific performance, and thank you to organisers and timing/lap counters.

Richard's four Saturday 'bike skills' sessions started on 15th February.

January
A big thank you to two-time World 10 km Open Water champion and Olympic silver medallist Keri-anne Payne and double Commonwealth gold medallist David Carry for the masterclass during Saturday 25th's swim session. (Photo: Greg McDowall).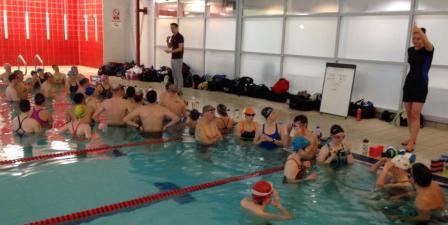 Congratulations to John Whittaker on his well deserved recognition as runner-up in the Clubsport Edinburgh's life time achievement award.
New Year's Day Triathlon. Well done to everyone who took part. (Photo:Neil Bain)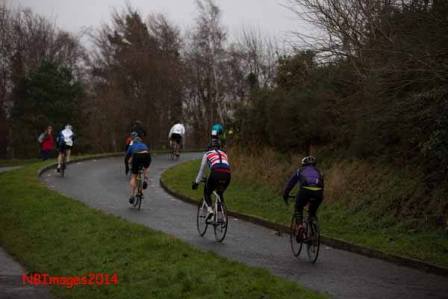 2013
Unfortunately, 2013 will be remembered by Edinburgh Triathletes as one of sadness and tragedy with the deaths of active member and vice-president Andrew McMenigall, founder member Douglas Brown and long time supporter of Gullane Stephen Churcher. All were killed while cycling and the triathlon and cycling communities have been shocked by their deaths. (Photo: Jim McGoldrick)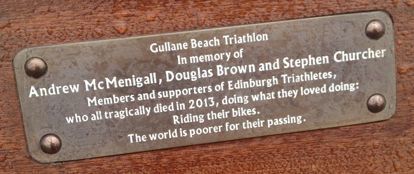 Congratulations to all who completed IMs, in particular to Scott Balfour who raced again at the ironman world championships in Hawaii this year and Gary Fegan who has qualified for next year. Also to our international athletes competing in ITU world or European championships: Keira Murray, Arnott Kidd, Phil Parr-Burman, and Richard Foxley.
Club champions for 2013 were Phil Parr-Burman and Nicola Dudley.