Welcome to Edinburgh Triathletes
Edinburgh Triathletes seeks to provide an inclusive training environment within one of the largest and most successful triathlon clubs in Scotland. We organise two premier events in the triathlon calendar namely the Gullane Beach triathlon and the New Year's Day triathlon, and it is thought that the first triathlon in Scotland was organised by ET members.
If you would like to find out more about Triathlons or Edinburgh Triathletes take a look at our 'how to get started page', or contact us by email.
2018
Results for Gullane Beach Triathlon are up on the Gullane results page.
Results for NYD Triathlon and Kids Duathlon are up on the nyd page.
2017
We have won a prize! We came second (room for improvement next year!) in the Triathlon Scotland Legends Ranking Series. Thanks to everyone who raced and made this possible!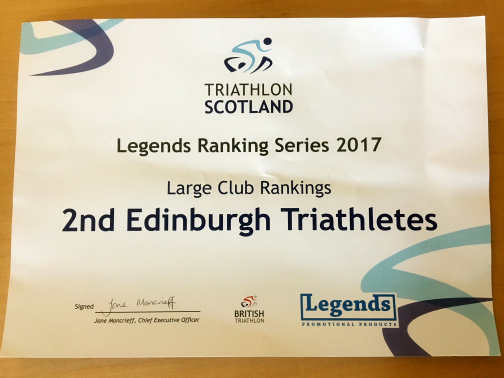 July/Aug: Gullane beach triathlon.
Wed 11 Jan: Inverleith 3k run TT (results)
Tue 10 Jan: Next Pedalhouse block started. See club emails for more info.
Sat 7 Jan: Special swimming masterclass on Saturday at 07:00, followed by normal swim, then MANDATORY bike skills meeting and training for ALL cyclists who plan to cycle in an ET group in 2017.

Tue 3 Jan: Anna's Pentland Run and grub-fest. See club emails for more.

Sun 1 Jan: New Year's Day Triathlon including results and photos
A massive well done those who competed, sponsors, the 'Commie Pool' and the many many helpers. A particular thank you to John and his team for another superb event!