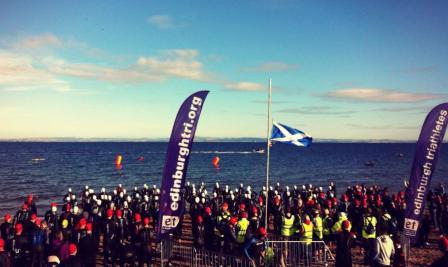 (Photo: Gullane 2013, Ciara Webb)

Edinburgh Triathletes
is one of the largest, friendliest and most successful triathlon clubs in Scotland and organises several premier events in the triathlon calendar. These include the Gullane Beach triathlon and the New Year's Day triathlon. Our members range from novice right up to age-group world champions and participate in all distances from novice, sprint, standard, half and full ironman not to mention aquathlons, adventure races, open water swimming events, sportives and off-road MTB endurance events. We have a pool of club coaches, many of whom also coach professionally.
If you are thinking of finding out more about Triathlons, taster sessions, or joining ET, take a look at our 'NewComers' page.
The club has three annual membership categories (Gold, Silver and Bronze). Gold membership gives free access to over 100 coached swimming sessions for only £100, (students £65). Silver entitles the member to one coached swim session per week and costs £65. Bronze membership is for those who do not wish to take advantage of the club's coached swimming sessions and costs £25.
All ET club membership is hosted by EntryCentral. Change their drop-down from Races to Memberships on the front page and then click for Edinburgh Triathletes. Your ET membership will pay for itself in just two months by attending the swim sessions! This is astounding value as there are no extra costs for these sessions.
As a member you are entitled to:
attend and participate in all our club training sessions
join our members-only email list (including weekly "what's on" guide), and facebook group
a varying discount at some Edinburgh-based stores, (see 'Sponsors')
receive our awesome newsletter, "TriBull"
rent equipment and bike boxes at attractive rates
borrow from our pool of wet suits
purchase the famous purple club kit club
your prized club membership card
free entry to internal club events like the Silverknowes and Hill Time Trial cycling
find out about the social stuff
 (Photo: Loch Ore 2013, Anna Henly)
Other activities vary in cost depending on location (eg pilates, yoga, spinning classes) and may be run by other individuals with whom ET has an arrangement. There are discounts on some of these, for ET club members. 
If you have questions about the New Year's Day Triathlon , Gullane Beach Triathlon, or Edinburgh Women's Triathlon then follow the links. For membership questions email Membership Office or Club Secretary.
We would strongly encourage you to buy a Triathlon Scotland race licence. There is a discount for club members and this also gives reduced rates for many event entries, allows you to win points for the club, and covers you for insurance when you are training and for many races.
Triathlon Scotland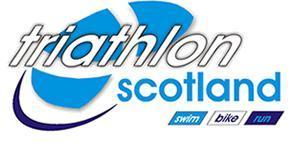 www.triathlonscotland.org and www.facebook.com/triathlonscotlandfan
triathlonscotland is the national governing body for triathlon, duathlon and multisports in Scotland and is recognised by both sportscotland and The British Triathlon Federation (BTF).
With your support, we:
Offer club and race memberships
Help clubs to host events and increase participation
Run national championship events
Train coaches to gain recognised qualifications
Coach triathletes to compete on the world stage
Build a strong core of skilled volunteers
All to achieve our mission 'realising the full potential of a vibrant triathlon and multisport community in Scotland'.
To find out more and to join us, visit: www.triathlonscotland.org/join
Individual members receive a host of benefits including discounts on race entries and apparel, racing insurance cover and a unique triathlonscotland training gift.  triathlonscotland members who race will also help their club to gain points in the hotly contested ranking series.  Individual ranking awards are also up for grabs across sprint and standard distances as well as open water, cross tri, duathlon and aquathon.