Edinburgh Triathletes as a club or individuals are involved in a number of Charity challenges and events and for more information please visit the links provided below. Please note that ET has no liability or influence over these external sites.
There are further details of some of the events on ET's Results and Highlights pages. Also, if you would like your charity event mentioned here then contact us.
August 2015: Richard Foxley
"a team of 12 from HTA Design LLP will be challenging themselves to cycle 100 miles in the Ride London -Surrey 100 in an effort to raise £13,200 for Shelter"
https://www.justgiving.com/HTADesignLLP/
19 July 2015: Iain Sinclair
"When someone says you can't, it suddenly becomes a whole lot easier to achieve....this combined with the motivation to raise funds for 2 outstanding charities is why I am making my IM debut in Zurich....thanks to all friends and coaches at ET for taking the pain out of training.  More details can be found on my fundraising page.."
http://uk.virginmoneygiving.com/tvn
15-19 July 2015: Iain Duckworth

Having watched 2 of my clients die from this insidious disease I have agreed to cycle from London to Brussels to raise awareness and funds for Prostate Scotland to take the fight to the disease.
www.justgiving.com/Iain-Duckworth2
11-12 July: Laura Hill & Gillian Campbell
The Kindrochit Challenge involves a 0.8 mile swim across Loch Tay, walk/run approx 16 miles over 7 munros, kayak 7 miles, and cycle 34 miles all in one day. The two charities involved are Mary's Meals, an international charity whose goal is to provide nutritious meals for children at school when they are living in poverty, and Mercy Corps, another charity working across the world to help people caught up in conflict, natural disasters and other crises.
https://secure.artezglobal.com/registrant/mobile/mobileTeamPage.aspx?teamID=62953&Referrer=http%3A%2F%2Fm.facebook.com%2F
Also, Elfreda Whitty on https://secure.artezglobal.com/registrant/TeamFundraisingPage.aspx?teamID=62370&langPref=en-CA#&panel1-1
12-14 June 2015: Jessica Verrall
I am raising money for MacMillan by doing a "weekend of pain"-  on Friday 12 June I will be swimming 2 miles at the Great North Swim, on Saturday 13 June I will be doing a 10k in London and on Sunday 14 June I am doing a sprint triathlon in Gloucestershire. 
https://www.justgiving.com/Jessica-Verrall
http://jverrall.blogspot.co.uk/  - there are a lot of ET sessions mentioned in the blog!
7 June 2015: Al Stanton
I am Escaping From Alcatraz and Swimming in Loch Ness for Macmillan Cancer Support
https://www.justgiving.com/al-stanton/
31 May & June 2015: Anna Henly

I am raising funds for charity as I am taking part in the Aberdovey Bike Ride in June. All the money raised by the riders is divvied up between the nominated charities which are listed on my JustGiving site,  https://www.justgiving.com/Anna-Henly3. Also see club emails for more info on the Sunday 31st May charity run(s) and eats.
3 March 2015: Nicola Murphy

A brilliant 12 hour blast on the turbo-trainer from Nicola Murphy for the Sick Kids Friends Foundation. "If people would like to donate, please reference that they are donating on behalf of the 12hour cycle challenge."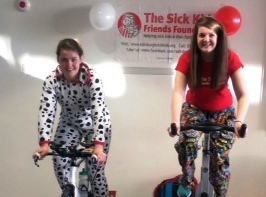 Wednesday 25 Feb 2015: Liz Richardson

1 hr 'Postal' swim at ESMC evening session. Check club emails for more info, and here for results.
Thank you Liz R for the organisation, with 15 participants clocking up 47km.
Sunday 22 Feb 2015: Sharon Grimshaw & Kirsten Cameron

ET's Kit 'bring and buy' sale in aid of Cancer Research organised by Sharon G & Kirsten C
"raised £744.55 and there is still plenty to take to the shop, which means they will make even more money.  A big thank you to everyone involved today, including Dougie from Edinburgh Bike Fitting, Trish the sports masseuse and others from clubs around the city.

Special thanks must go to Keira Murray's sister Freya Ross whose donations were out of this world and had everyone wishing they were a size 8, including the men!

Cake and baking donations from club members made a big difference and added to the enjoyment" (SG).
8 Sept - 1 Dec 2014: Francesca Osowska

the Aspire Channel Swim Challenge
https://www.justgiving.com/francescaosowska/
http://www.aspirechannelswim.co.uk/francescaosowska
1 - 15 Aug 2014:
15 sprint triathlons in 15 days
www.profsolympiclegacy.com
www.justgiving.com/profsolympiclegacy
26 July 2014:
https://www.justgiving.com/100-laps-or-bust of Arthur's Seat
11 - 12 April 2014:
ET's 24-hour sponsored team swim
http://www.justgiving.com/EdinburghTriathletes
26 February 2014:
ET's 1-hour Postal Swim