This summary is backed up, where possible, with linked documentation but if anyone spots errors or has additional information, please contact us.
1983:
Fleet Feet (& also East Kilbride) claims to be the first Scottish Triathlon club. Note though that at this time the 'water' discipline was often canoeing, (for example the Deeside Triathlon from Braemar to Aberdeen in 1982).

1984: Possibly the first Scottish Triathlon.
a) "After watching the 1983 triathlon in Hawaii, I thought I would like to have a bash at that... I decided to organise an event….The event took place in (15th) May 1984 and was a complete success. I continued to organise the event for four years "
(Andrew Grant (ET founder member), extract from Edinburgh Triathletes Handbook)
b) "and was sponsored by WHEC and Edinburgh Bicycle. Some 60 competitors took part."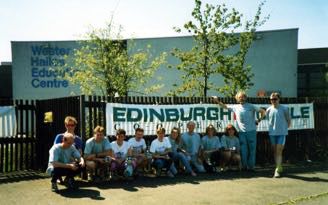 (Andrew Grant, https://www.edinburghcollected.org/memories/579)
c) "The first triathlon I entered was based at the Wester Hailes Education Centre in 1984… but injured my ankle three days before the event and couldn't compete"
(David Boyle, Pentland Triathletes Newsletter, Spring 2012).
d) "A group of enthusiasts from Edinburgh also organised a triathlon at Wester Hailes Edinburgh. "
(John Whittaker, document prepared for Triathlon Scotland)
e) "man who set up Scotland's first triathlon more than 20 years ago..."
(Edinburgh Evening News, 3 Jan 2008)
1986:
a) Wester Hailes Sentinal article
1988:
Moray Triathlon 1988 – winners – Brian Kirkwood (E.T.) Outright winner   Andrew Grant ( E.T.) Super vet winner,  Ginny Pollard (Fleet Feet) Lady winner, Mike Hood (E.T.) Vet winner.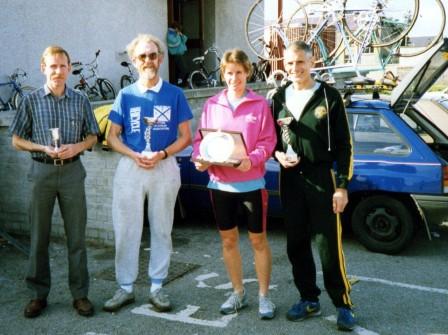 1990:
Edinburgh Triathletes officially founded. (More...)
Founder members included Douglas Brown, Andrew Grant...