In Memoriam
Saturday 14th June 2014 Memorial Ride
It is almost a year since the first of the tragic accidents involving Andrew, Dougie and Stephen. Mainly thanks to a lot of work by Jim McGoldrick we now have a memorial bench and several trees in place at Gullane.(Photos; Paul Graham)

Riding out from Dalkeith after the swim session, a swathe of purple kit arrived at Gullane where we left flowers at the bench and took a look at the trees which are now establishing well.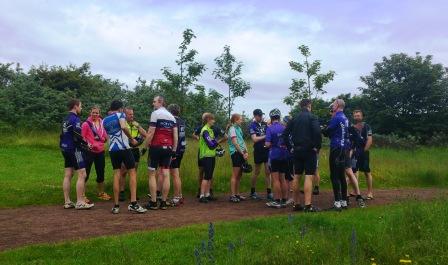 Andrew McMenigall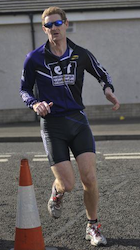 I am sure that I speak for all in the triathlon and cycling communities in registering my shock and sadness at the tragic and untimely death of our fellow ET Andrew McMenigall on the Cornish roads the morning of Tuesday 2nd July.
Andrew was a true clubman- giving of his time freely to bring on triathletes of every standard at all times of the day. He was a giant of the club.
Andrew loved his cycling and I know that he really enjoyed the last few months training for his Land's End to John O Groats challenge. Typically he was doing it for the benefit of others: raising money for the Kirsten Scott Memorial Fund.
He was a dedicated Vice President and all round good guy and I know that his loss will be sorely felt by all those connected to the Edinburgh Triathletes.
Our thoughts and prayers are with Andrew's family at this time.
Gavin Calder
President, Edinburgh Triathletes
Douglas Brown
It is with great sadness we inform you of the death of a founder member of Edinburgh Triathletes, Douglas Brown. He died following a cycling collision with a lorry. Our thoughts are with his family at this sad time.
Andrew Grant, Founder and First President of Edinburgh Triathletes writes:
"When we first formed Edinburgh Triathletes back in the 1980's one of the leading lights then and a frequent competitor was Douglas Brown. While he gave up competing he did not give up cycling and practically every day he continued to cycle and he swam regularly. I am sad to report that Douglas at the age of 79 was involved in an accident on the road between Kirkliston and Winchburgh last Thursday (11th July 2013).

Unfortunately Douglas died last night as a result of the trauma caused by the accident. I am sure there are still many who were in ET will recall him and the help he provided in setting up the club and also his infectious humour.

It is disastrous that two Edinburgh Triathletes should be killed in road accidents in such a short time."