NOTE ABOUT TRIATHLON SCOTLAND MEMBERSHIP
We would strongly encourage you to join Triathlon Scotland. Not only will it be cheaper to race, but it will allow you to win points for the Scottish clubs championship (something we haven't won for a few years), and give you insurance cover when you are training or racing anywhere in the world. (This is something that a lot of household or travel insurances don't cover). In addition it helps to support the promotion and running of the sport in Scotland. Further details should be available at http://www.triathlonscotland.org/membership/ or https://www.britishtriathlon.org/join 
2017
The club championship is being run on similar lines to last year, with one addition. When you do your first club champs race of the year you qualify for a £5 kit voucher Since the champs co-ordinator (Phil Parr-Burman) is also the kit boss you don't have to do anything for this.
The main things you need to know are:
To get points you have to finish one of the club championship series of races.
Points are based on your age group performance.
You also get points for one non club champs race if it's a longer distance or if you've competed for team GB (or other national team).
Your best 4 races count.
List of Championship Races:
Tranent Sprint - 18th March
Stirling Duathlon (SC) - 26th March
Selkirk Standard - 14th May
Lochore Sprint 11th June (Note: originally said 17th)
Ironman 70.3 Edinburgh - 2nd July
Monikie Sprint (SC) - 9th July
St Mary's Loch Standard - 23rd July
Aberfeldy Middle Distance (

SC

) - 20th August
Haddington Sprint - 27th August (Note: originally said 3rd September)
Knockburn Loch Standard (SC) - 10th September
SC = Scottish Championship race
FINAL Standings: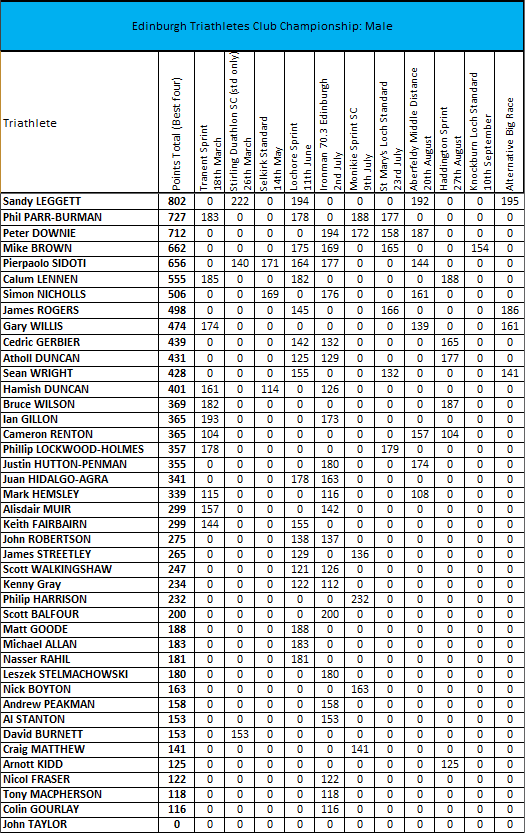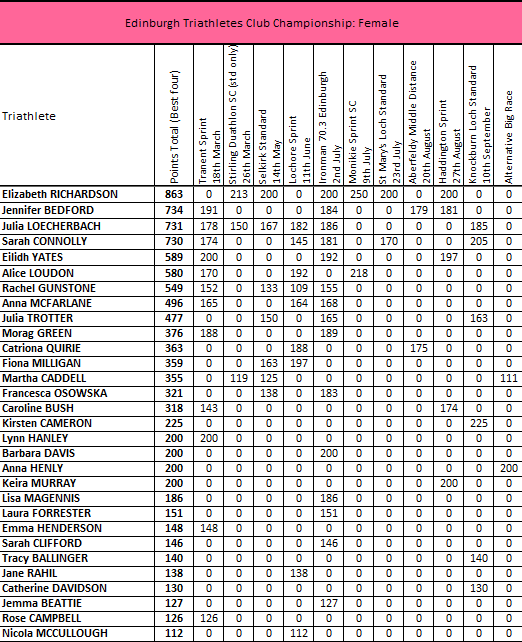 The rules of the points scheme:
You get 100 points for finishing. Your best 4 performances count.
You get more points depending on your position in your age group. Points = (number of people in your age group that you beat +1) x 100 / (number of finishers in that age group). So if you're 5th out of 10 in your age group you beat  5 so your points = 6x100/10 = 60.  (Note, the +1 in the calculation is to ensure that regardless of how many finish you still get 100 points if you win).
If it's a Scottish Championship race your position points get multiplied by 1.5 - so in the example above you'd get 90 (but in practice since the standard at the top end is generally higher in a Scottish Championship race you'd tend to come lower down the field - this is why there are extra points available)."
Also:
To allow you to have other goals and still get championship points you can now also get points from doing a longer distance event anywhere in the world. This could be an ironman, half ironman or similar race that doesn't have that branding. Just tell me what the race is, your age group position and the number of finishers in your age group. Points will be awarded in the same way as for the target races (100 points to finish then up to a further 100 points depending on your position).
You can also get points when you compete for team GB - again, let me (Phil P-B) know your result".
Contact:
For any queries and to get your points credited for non champs series races email me directly if you know my address or otherwise at kit@edinburghtri.org
2016
The final results for the 2016 ET Club champs are...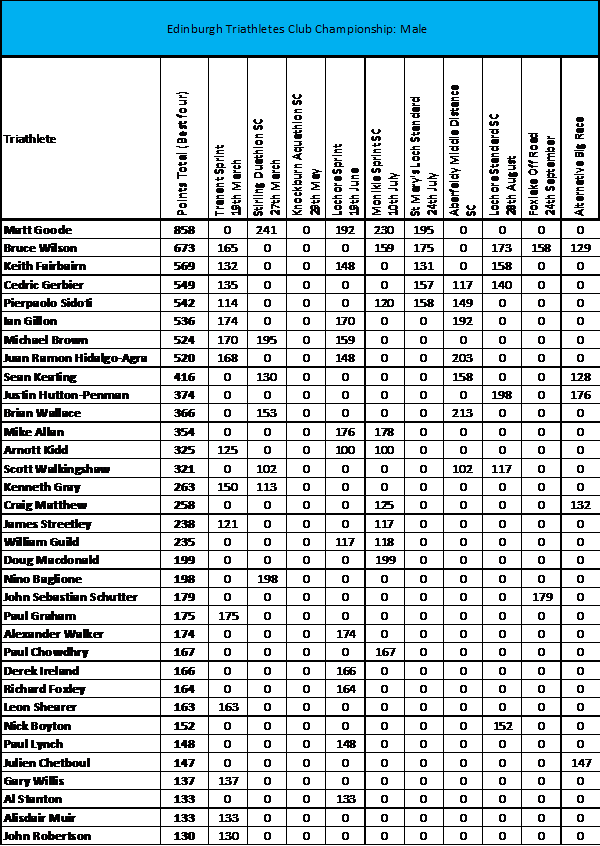 Results for 2015
Download word docx and congratulations to Joe T & Eilidh Y.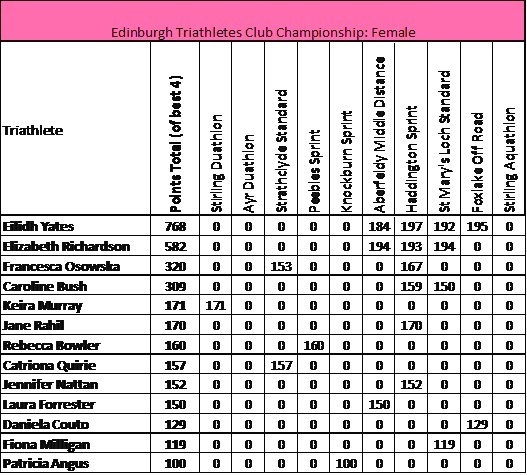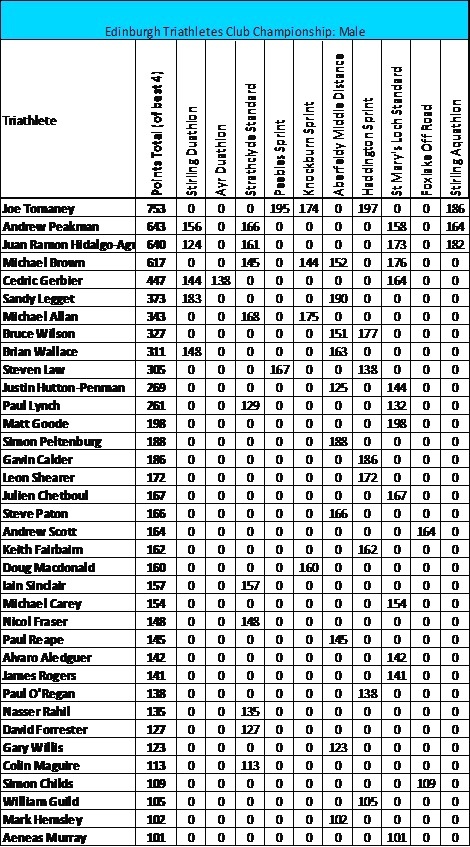 Results for 2014
Congratulations to 2014 club champions Keira Murray and Ian Gillon. The championship was contested over the series of club target events by 48 of our members.
Lets get even more out next year!
Phil