Saturday 21th July 2018
Registration from 0700hr
Start time 0900hr
Further information:
Note: Race information will not be sent out prior to the event but posted on the event Facebook site and this page approximately 2 weeks prior to the event.
Location

Gullane is located on the East Lothian coast approximately 18 miles east of Edinburgh on the A198. On entering Gullane, follow signs to the car park at Gullane Bents. From the Main Street  this is first left when approaching from west on A198. See the Undiscovered Scotland website for more detail
Parking

From 2015 there is a fee of £2 on the day of the race. There is enough space for about 350 vehicles if they are parked properly. Please follow the marshals' instructions on arrival.

Accommodation

No overnight camping is allowed on the beach - please use official sites or contact the tourist information office for other accommodation:
RACE INFORMATION: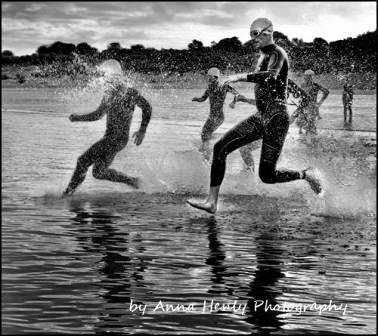 Swim 1500m: A 2 lap sea swim in Gullane Bay with a unique beach run. The water temperature is likely to be around 12-13 degrees so WETSUITS are COMPULSORY. A cut-off time of 25mins for halfway will operate!
Bike 42km: A multi-lap course on quiet roads close to Gullane.
Run 10km: 2 laps mainly off-road along dune-top tracks.
The Gullane Beach Triathlon takes place in a very scenic setting - unfortunately this means that some of the home comforts are absent, although there is a toilet block between the beach and car park.
ENTRY:

Entries are via EntryCentral and confirmation of your entry will be the email receipt that you receive from EntryCentral. 

In order to maximise places and minimise disappointment we have produced the following policy regarding entry and refunds for this year's Gullane Beach Triathlon.

Late Entries/Withdrawals/Refunds/Transfers
No online entries will be accepted after the closing date, and please see your entry confirmation for information relating to withdrawals. Places are not transferable.
Waiting List

If the race fills early we will operate a one-out-one-in waiting list until the closing date. If you provide an email address, you will be notified of your position on the waiting list when you join. If a place becomes available for you, we will confirm you on the start list without contacting you beforehand. You may withdraw from the waiting list without charge, so if you are on the waiting list but cannot race it is in your interests to let us know. Any remaining waiting list will be deleted after the date at the top of this page, but you may be able to enter on the day.
Enter on the day
If all else has failed, your best bet is to turn up at registration on race day morning with a completed entry form and a cheque (please note an on-the-day entry surcharge of £10 Individual / £20 Relay team will be applied) and we may be able to offer you a place based on any no-shows. We cannot guarantee any of these places will be available and we will operate a strictly first come first served policy.