The New Year's Day Triathlon
Sunday 1st January 2018, based at the Royal Commonwealth Pool, Edinburgh EH16 5BB
(Photo: Edinburgh Leisure)

Edinburgh Triathletes welcome you to the New Year's Day Triathlon. We aim to make this a great start the year of sport in Scotland.  This is a race for everyone; a fun race for those who have never done a triathlon before (about a third of participants are triathlon virgins each year) or a competitive test of winter fitness for the experienced. The race gives you the opportunity to start the year as you mean to continue - and with a great atmosphere from the support of both competitors and spectators you will have a great time. Every entrant receives a race momento so they can remember their achievement.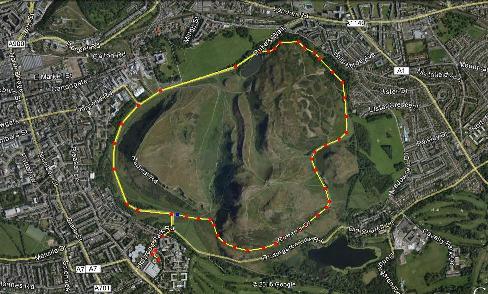 For many, this is an annual event, so welcome back, and we hope you not only go faster this year, but that you also enjoy it at least as much as you did previously!
Photos by Anna Henly unless otherwise stated.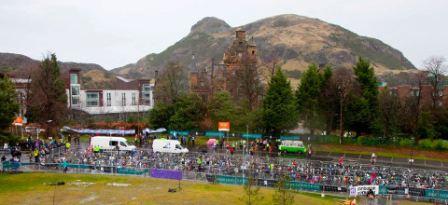 The swim: 400m swim (8 lengths of the Commie Pool),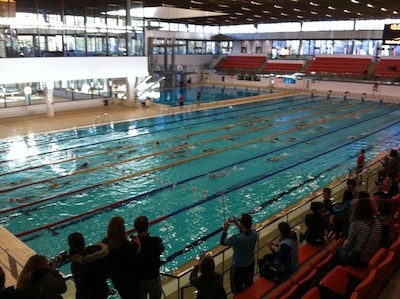 The bike: 3 laps on the traffic-free tarmac road clockwise around Arthur's Seat in Holyrood Park.
This comprises a 0.36km closed-road lead-in, 3 laps each of 5.27km (with 110m of climbing each lap) then back along the same 0.36km road to 'transition', giving a total of 16.53km, (approx).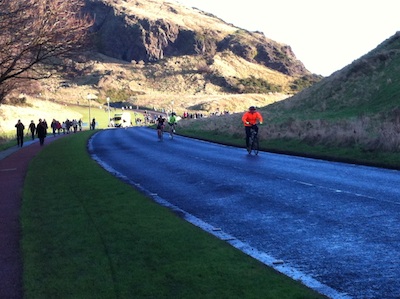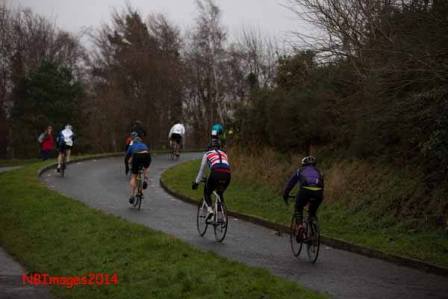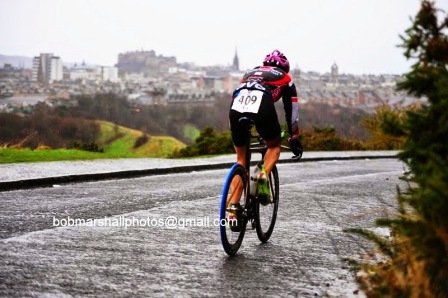 The run: 'Only' once around the same Arthur's Seat loop (again clockwise).
This comprises a 0.36km closed-road lead-in, 1 lap of 5.27km (with 110m of climbing) then back along the same 0.36km road to the finish, giving a total of approx 6km.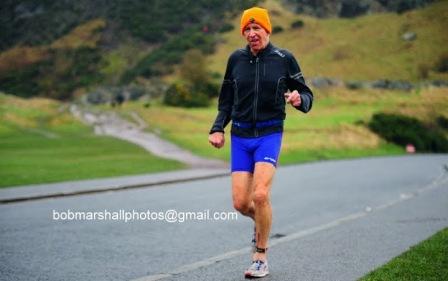 If this seems too much then why not enter a team?
There is no need for the kids to feel left out either. There is a separate Duathlon race for 8 to 15 year olds prior to the main event. This involves a run of about 500m, then approximately 2km cycle, and then a short run again (all on roads closed to traffic). Entries are usually on-the-day. Please note that for the cycle, wearing a helmet is compulsory and bikes must be in a road-worthy condition.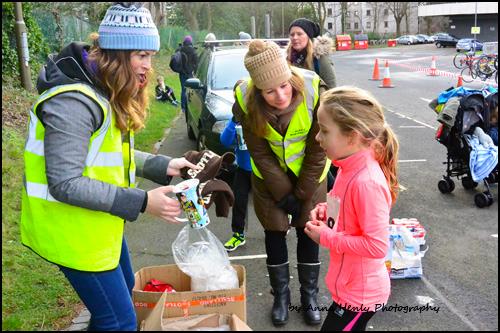 If you like the sound of the race but are daunted by the thought of doing a triathlon then please take a look at the rest of Edinburgh Triathletes website for more useful hints and access to coaching support.
You will be aware that the event is at a time of year when the weather might be a player. We have managed to run the event in various conditions and have only ever once had to adapt the course. By entering you are accepting this is a condition of your entry. We will endeavour to make the event happen but if there is no choice but to cancel given certain weather and advice we will refund a proportion of the entry fee once all unrecoverable costs have been considered.
Legal stuff:
Once you enter, 'Entry Central' will send you something like this...
I accept that this event is conducted under BTF rules and conditions and I agree to acquaint myself with and abide by those rules and any organisers' instructions. I am aware that my cycle must be in a roadworthy condition and am prepared to submit my cycle for official scrutiny immediately prior to the event. I understand that it is the competitor's responsibility to safeguard such clothing and equipment I may use. I acknowledge that these events are an extreme test of a person's physical and mental fitness and has with it the potential for death or serious injury or property loss. The risks of participation include, but are not restricted to: weather conditions, road traffic, behaviour of other participants, volunteer helpers, officials and spectators in and out of the event, dehydration, hypothermia and behaviour of animals. I hereby, aware of these, assume the risks of participating in these events and on my own behalf and on the behalf of my executors, administrators, heirs, next of kin and whomever: - agree to waive any claim and to release and discharge from any claim which I or they may have in respect of death, disability, injury, property loss or damage as a result of or while I am participating in this event, the event organisers, directors, sponsors, officials administrators or volunteer helpers - agree to indemnify the persons mentioned immediately above for any or all liabilities or claims made against them as a result of my behaviour in this event. Said waiver, release, discharge and indemnify to extend to liability for negligence under common or statute law.