On the first Monday of the month we head over to the Salisbury Arms (58 Dalkeith Rd, Edinburgh EH16 5AD) for drinks and food from 8.45pm (or as soon as we can get there after the Commie Pool swim).
And here's a selection of the other social things we got up to in 2013, just to give you a flavour for what you shouldn't miss in 2014.  (And there's always more news in Tribull).
Christmas Night Out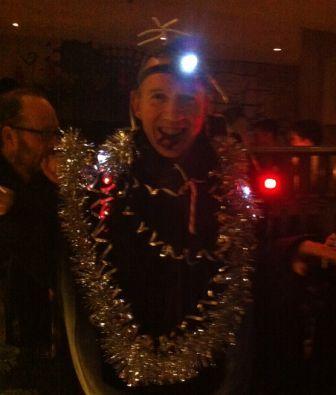 Out in Stockbridge for our Christmas meal, then teams competed in the Urban Explorer Challenge.  Our Annual Awards were also presented to the Club champs, King/Queen of the Mountain, Silverknowes TT, and Best Improvers. (Photo: Liz Richardson)
Annual Swim Gala
Who won what? And does anyone really understand the rules for some of these strange events?  Noodle races, chariot races, etc... (Photo: Liz Richardson)
Skittles
Phil retained his crown at the Sheep's Heid despite the best efforts of the rest of ET.
Aberfeldy training weekend
A great weekend of training, plus lots of pizza and a night out at the Black Watch Inn.  Some even decided that cycling there and back would be a good idea too.
Video evening
Proof that 6 out of 6 ETs did get round Austria IM.