This page contains
a summary of what you can expect from an ET training session and will include specific sections for each of the swim/bike/run disciplines
a sample of a weekly email sent to members giving details of some notable sessions planned for that week.
a link to the 'Coaching' page for information about the coaches themselves
links to Strava and various time-trial results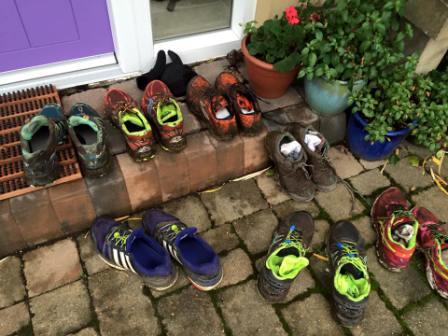 Photo from Jane Rahil (2016).
Weekly Training - from the latest email
Notes:
Closed now - see email sent on Friday for details of results.
Thursdays 7pm - an hour or more at the The Pilates Hub in Wishart Building, Shore Place, Leith.
Spin sessions continue at Pedalhouse on Tues (see emails from John W for details). Please note there is a waiting list for these sessions, so if you book please turn up or arrange to make your bike available for someone else - thanks.
Please remember to bring your ET membership card to every swim session.
All training sessions cater for a range of abilities (if you are a complete beginner you can ask a coach about suitability before joining a session - if you don't know a coach then reply to the weekly email and Paul will put you in touch):
swim lanes are organised by ability

run sessions are either split into groups by ability or the "fifty metre rule" applies (i.e. faster people run at whatever pace they want, and then loop to the back of the group once they get 50 metres ahead)

bike sessions are either split into groups by ability or the ride leader ensures no one gets left behind
Please ensure you arrive and are changed and ready to start on time for the sessions.
MONDAY 11 DECEMBER
Run
Meet: outside Commie Pool
Swim
TUESDAY 12 DECEMBER
Spin
WEDNESDAY 13 DECEMBER
Swim
Venue: Leith Victoria pool
Coached by: Gavin & Rhiannon
Run
Session: Hills (Orchard Brae)
Meet: upstairs dining hall, Stewards Melville College 
Swim
Venue: Stewart's Melville Pool
Session: Relays & Rotation
Coached by:  Euan & Derek
THURSDAY 14 DECEMBER
Pilates
Note: £40 for 5 or £10 for single. If you can, use the "Mind and Body" App to book and pay.
FRIDAY 15 DECEMBER
Swim
Venue: Leith Victoria pool
Coached by: Gavin and Rhiannon
Run
Time: 1800-1900
Venue: Saughton running track
Session: intervals
Led by: Derek
Meet: Saughton Sports Centre reception
Note: the session costs £5.15 
SATURDAY 16 DECEMBER
Swim
Time: 0800-0900
Venue: Dalkeith High School
Meet: poolside
Equipment: pull buoy, fins, paddles
Note: pool is available from 0745 if you want to get in early and practice your skills
Bike
Time: 0930-
Led by: Richard
Meet: Dalkeith High School front entrance
Equipment: helmet mandatory, TT bikes not permitted
SUNDAY 17 DECEMBER
If you're heading off for an alternative bike ride or a run or swim, put something out on the egroup or Facebook to get your fellow club members to join in.
Yoga and Pilates:
Classes at Meadowlark Yoga, 43 Argyle Place,  include Vinyasa Flow, Power Yoga and Pilates. Yoga develops strength and flexibility to complement your other sports.
http://www.meadowlarkyoga.com/
What can you expect from a training session with Edinburgh Triathletes?
The coaches have prepared a broad plan for the management of training sessions throughout the year for swim, bike and run. The main point of this is to ensure there is a consistent approach to the way sessions are run.
The coaching team will have a timed progression of loads or technical aspects within the plan for each part of the year.
The coach will inform the group what is happening and what the objectives are of each training session.
The coach will set out and describe what any drills or exercises are, in clear and plain English.
Swim sessions will be based on Swim Smooth principles, as per British Triathlon recommendations.
The coach will give general coaching points to the group and will from time to time pick out specific coaching points for individuals.
There will be regular master classes for specific skills improvement across the disciplines.
Coaches will guide those of you who have personal training requirements to a source of "paid for" coaching support.
In return the coaches need athletes to:
Listen to instructions and if they don't understand to ask for clarification.
Try to follow the instructions given.
Be on time for training sessions.
Be prepared for the session.
Be responsible.
Suggested swimming kit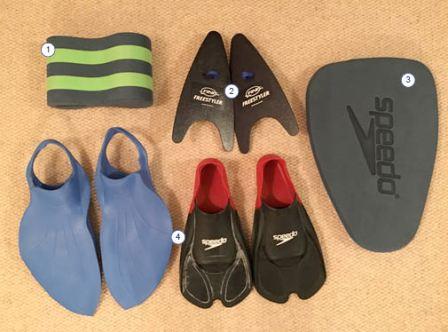 The following is a suggested kit-list which the coaches have put together and encourage athletes to bring along to pool sessions. This will allow the coaches to incorporate relevant drills and practices to aid your swim training. They are not mandatory but will make certain drills and practices easier to complete.
1 - Pull Buoy - a generic adult sized foam swim buoy will be fine
2 - Hand Paddles - we recommend the Finis Freestylers, technique training paddles, rather than strength training paddles, which help with stroke/catch development
3 - Kick Board - a generic adult sized foam kick board will be fine
4 - Fins - typical rubber fins with a heel cup as pictured will be fine and will allow a wider repertoire of kick drills to be incorporated into sessions. For those who sufer from achilles pain, fins such as the AquaSphere Alpha (the blue ones in the picture above) allow greater ankle flex and may be easier to use. Those who suffer badly from cramp may even want to look for longer length diving-type fins which also reduces load on the calf.
If you've any questions, just ask one of the coaches. We have an 'Affiliation' with Swimshop who are offering us a 10% discount on equipment and have put a bundle package together for us, giving you everything you need from above. Click on their logo below to visit the website and use the discount code from our weekly email to get the discount.